Multi line blockquote with a cite reference:
People think focus means saying yes to the thing you've got to focus on. But that's not what it means at all. It means saying no to the hundred other good ideas that there are. You have to pick carefully. I'm actually as proud of the things we haven't done as the things I have done. Innovation is saying no to 1,000 things.
Steve Jobs – Apple Worldwide Developers' Conference, 1997
Drive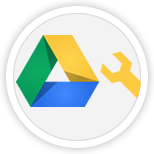 Manage Drive for your G Suite team
With Google Drive, you and your team can easily back up and share all your documents—from anywhere and using any device, including your laptop, mobile phone, or tablet. Here's how to manage Google Drive for your business or school.
Ready to set up Drive for your team? Follow our easy Quick Start Guide.